With the masses of online stores out there (and the ever increasing number), standing out from the crowd is an absolute necessity to succeed. How can you stand out from your competitors and make people decide you are the one they would like to buy from? One of our suggestions, which we have touched on previously on how to do eCommerce right, is to include reviews – specifically make a presence on TrustPilot (promise this isn't a #spon post!).
If you're not sure, TrustPilot is a third party site that allows companies and customers to register and post reviews. Very much customer service orientated, customers can go on and rate your service out of 5 stars and leave an additional comment. TrustPilot becomes more popular by the day with up to 400,000 reviews a month! It really is a little community of online shoppers all sharing their experiences to help one another out.
Facts from TrustPilot:
You could generate up to 44% additional revenue each year

Of all UK online shoppers, 77% would look to reviews before making a purchase decision

In the past year, 60% have written a review about a purchase. Not all bad! Of these 83% were positive.

Having a TrustBox on your site can improve sales conversions by up to 60%

If your reviews show next to your search result, this can improve your click rate up to 17%!

 

Our Thoughts on TrustPilot…
TrustPilot think they are all singing and dancing, and to be honest, we also think they are a fantastic community to get your company part of and is a great module to integrate with Magento. Below are the main reasons we think it is great to get involved and some shiny examples from two of our clients that use the system.
1. Invite Customers to Give their Thoughts
This helps your customer relationships by asking for feedback about your service. If they haven't been happy this gives you an opportunity to help resolve the issue and improve a bad experience.
2. Constructive Criticism
If you don't get a great review, use this to help resolve the situation and learn in the future how to avoid the same situation repeating. You will constantly learn and build up a customer service strategy with limited flaws. If you keep a high level of communication and quick responses to the reviews, you can increase brand trust showing you will resolve bad experiences and make a better brand awareness through transparent customer service.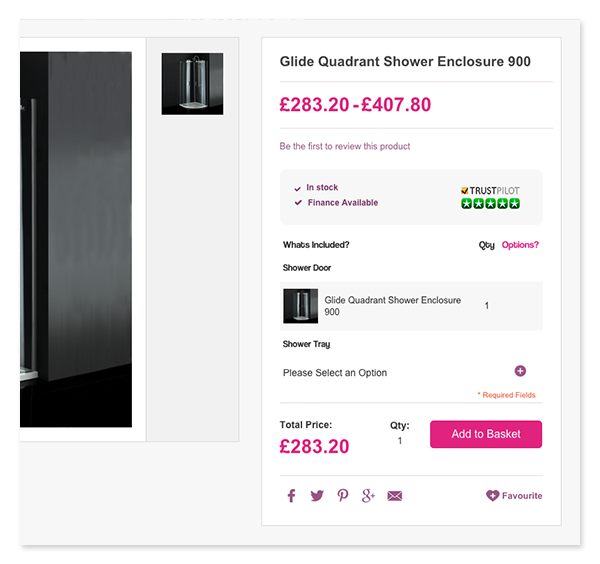 3. Recommended by Third Party
When people are searching your business to see what people say, it's good to have a source outside of your own site to say how fantastic you are! Having TrustPilot show you as a recommended company gives people peace of mind when entering their card details in to your site. The ability to see all reviews that haven't been censored by the company (to only show the nice reviews…) this makes your company completely transparent and people are far more likely to trust reviews on the third party site than if they were built in to your site independently.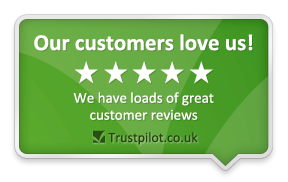 4. Reviews help your rankings…
By having your reviews visible next to your search result will help massively with people clicking through to your site and making you stand out from the rest. Instantly people will recognise you as a trusted supplier with great customer service and are far more likely to look at your store and convert that click to a sale.
Read our previous blog Get Popular! Reviews to Boost Local SEO for more info about how reviews can boost your rankings and local SEO.
5. High Ratings help you compete…
It is very tough to compete with the likes of Amazon, but having the stamp of approval from TrustPilot for outstanding customer service will help you on your way. Amazon has a built reputation by the sheer number of customers but if you have your own customer base giving you rave reviews, you will gain the same amount of trust from your database.

6. Live Feed of Excellent Service
By adding in the TrustBox to your site, people visiting the site will be able to see the live feed of people reviewing you service and what they have to say. If people see that someone commented recently saying you were excellent and lovely to buy from, they will be far more likely to trust you as a company and subsequently use your products!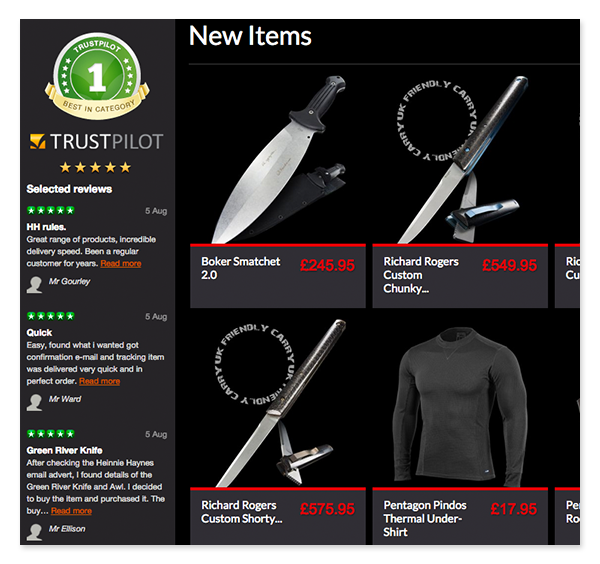 7. Integrate with Social Media
By adding the feed and review system in to your social media, this helps collate all reviews in one place and also keeps your customer service transparent. If people find you on these channels also it will help with them clicking through to your products and further information. TrustPilot Excellent rating is something you want stamped on your channels and keep shouting about!
Why not check out our case study for Heinnie Haynes to see how TrustPilot is incorporated throughout their sites and the impact it has. Once you are highly rated, it is really something you should shout about! Other clients we have integrated TrustPilot for include BathroomSupastore and JC Electrics.
If you are interested in incorporating TrustPilot on your website, why not contact us and we can talk through how this can be done.