Sugar at No.10 is a Cardiff start-up business which needed an online presence. We were approached to design and build a landing page in advance of the venue opening in mid May 2011.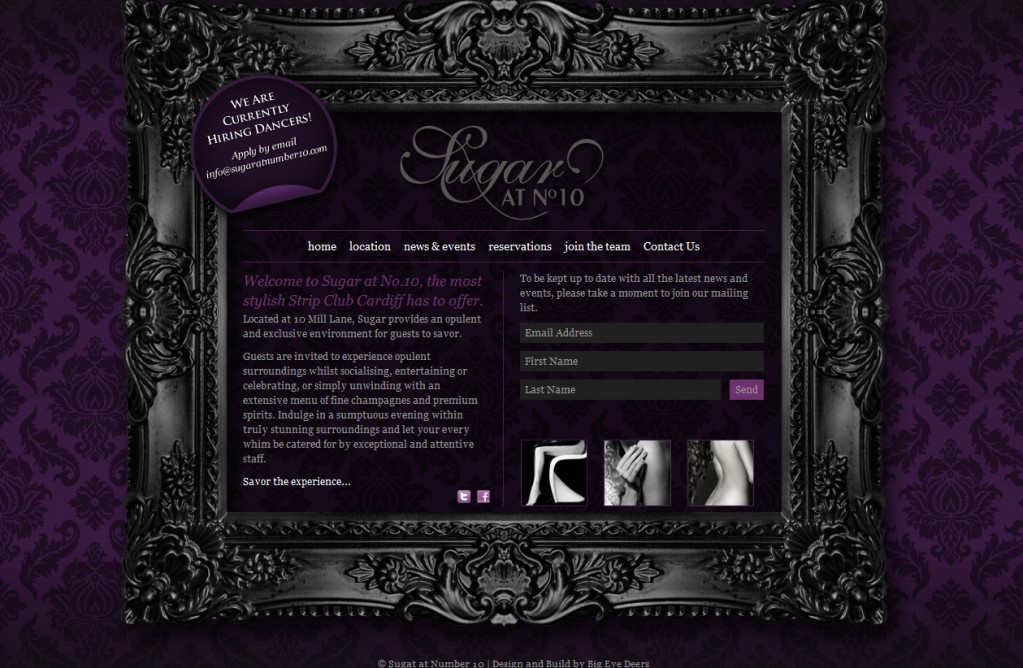 Following a coffee with our client, we felt it was important to use this opportunity to create awareness of this new venue with further online activities. A digital strategy was needed to achieve the following:
–          Company website
–          E-marketing campaign
–          Strong presence on social media
–          Social media advertising
–          SEO optimisation
A considered design approach was applied to ensure the correct brand identity was projected across all platforms, this was imperative to capturing the attention of the correct target market – which was primarily an ABC1 customer base for a high-end VIP bar.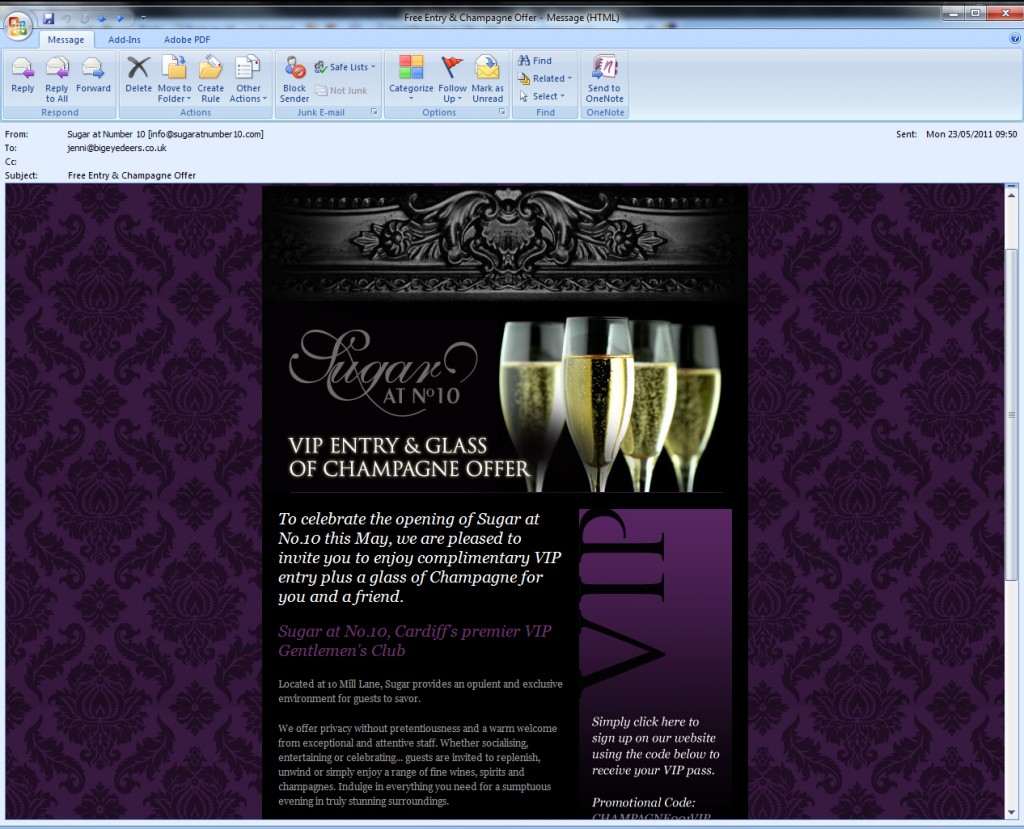 Within a period of 2 weeks from launch, Sugar at No.10 had achieved:
–          1,300 unique visitors to www.sugaratnumber10.com
–          A community of 273 on facebook (and growing)
–          575 followers on Twitter
–          Direct bookings from new customers
–          A solid newsletter sign-up database
–          Great interest regarding recruitment, offers and booking enquiries
Following the success of Sugaratnumber10.com's launch, Big Eye Deers have been appointed to develop the website further within a higher budget than originally allocated. The new website which is currently in development will feature a dynamic Image Gallery, WordPress Integration for News/Blogs, a HD video showcasing the venue and an Events page with a year-round calendar which will link to date-specific promotions and offers for the club. Additionally to these elements, the site will be fully integrated with Social Media, to include Twitter & Flickr feeds as well as hook-ins to allow visitors to share content across social media platforms. We will also continue to work with Sugar at No.10 on Social Media.
In all, our new client is delighted with the results achieved within such a short timeframe, which were achieved on time, on budget and with great results which were measured through Google Analytics and CodeIgnite data capture measuring tool.
Another happy client for BED!
"A huge thanks to Big Eye Deers for all their hard work. We never could have anticipated such results and are overwhelmed with the success of the website and the awareness achieved through our great looking social media channels. We've had such amazing feedback and can't wait for the new functionality to be built into the site. The results have been outstanding." Mark Mcleod, Manager of Sugar at No.10