Hello Highers! Meet Hill Valley High, an Alt. Pop band from Telford. HVH have played sold out shows in Brazil to stages at Download, Sonisphere and T In The Park and have opened for Madina Lake, Elliot Minor, Mayday Parade, Tinie Tempah, We Are the Ocean, and the Pendulum DJs. Formed in 2006 and influenced by music such as Foo Fighters, Blink 182 and a little bit of Justin Bieber HVH needed a brand that represented their alternative style of pop-rock that also spoke to the fans to go with the launch of their new EP.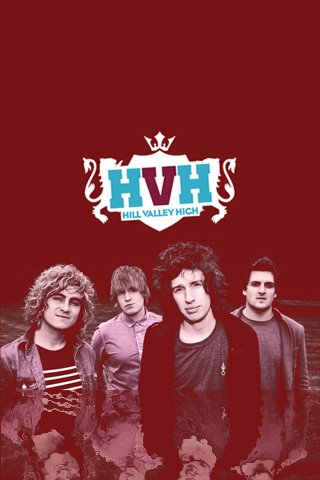 Using popular styles and inspiration from pop culture we created a logo that would go great on HVH merchandise and appeal to the band's target audience.
The colours and typeface remain edgy enough to show HVH's rock roots and the crest that was integrated from the previous design was made cleaner and more official. To launch the EP, Hill Valley High wanted to give back to the fans that had supported them along the way, as well as promote themselves within the music industry so we decided to create a bespoke custom soundcloud that required email input for 4 free downloads. This link would then be tweeted, blogged and mailed to both mailing lists and get people checking out the new HVH site and brand.
So far there's been a fantastic response from fans and industry professionals alike, and with the added 'twitstream' campaign currently running on the band's twitter, buzz for the band is huge.  HVH can also use the email addresses captured from the soundcloud integration for further promotions so it's a great way to stay in contact with their fans!