Who Am I?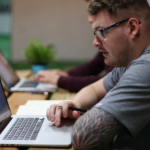 I'm Ben I'm the Lead Developer at Big Eye Deers. I'm a Frontend Magento 2 certified developer with experience in a bunch of coding languages. My job role flips between developer client manager and project manager normally a few times in a day, going for that CEO role.
What do I do?
My day to day at Big Eye Deers is normally helping our clients, dealing with maintenance tasks where someone is requesting new features, support or organising calls with potential new clients. I help keep the other developers on time and working hard by offering support or working with them to create a solution.
I've recently been working on building a site for a company using a new emerging platform Aero Commerce. Aero Commerce is an ecommerce platform designed to be full of features, create lightning-fast experiences and be fully extendable/scalable. The first Aero Commerce site I've been working on should be launching late January 2021.
I'm a passionate CSS developer. I used to create lots of CSS only projects on codepen but I've not done that for a while.
My favourite piece of work
Klinik was one of my favourite sites to work on with completely custom build animations, we used a simple flat design that we broke into assets that we created a tween animation for in GSAP. It was a collaboration between our team and the client to get the right feel to the animation to make sure it was snappy enough to grab attention without it being too in the way.
As this is a healthcare platform I wanted all the animation to be really friendly, I made sure they were nice and bubbly when animating in and out so they could be watched over and over without it being jaring. 
See more of the Klinik Animations Here
My Latest work
Griggs is our latest Magento2 release and I'm really happy I got to work on it, it's a structurally sound M2 build without relying on too many modules which means we got to use the best parts of M2. We looked to create a much more user friendly and accessibility orientated checkout which involves easier to click buttons and a more streamlined checkout experience, this left customers more satisfied with their checkout process and improved conversion rates.
What I do for fun
I've got a cute puppy rescue called treacle, she loves biting anything that moves and any sort of treat. When I'm not creating beautiful responsive seo friendly websites I'll either be playing on my xbox or learning Welsh! Diolch yn fawr!