Who am I?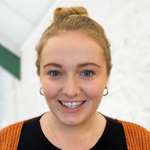 Hey I'm Zoe and I take care of Social media and Digital marketing when it comes to Big Eye Deers. I grew up as an outdoor instructor travelling the UK with work but have stopped for now in North Cornwall. I have grown up around social media and eventually took the leap to make a career out of it. Having worked with various charities, environmental groups and surf schools on improving their online presence and in the past year began working with Big Eye Deers.
What do I do?
I work across the Big Eye Deers social media channels replying to customers and creating content to shout about the great work Big Eye Deers are doing and any other useful ecommerce tips that are worth sharing.
From blog writing to multi platform engagement I really enjoy the diversity of my position as well as roping in the staff to do online challenges!
Favourite Piece of content?
Blue Monday isn't the easiest day for some people and although I believe you need more than just 1 day a year to highlight mental health, we spent the day appreciating the pets in our lives and how they made working from home that little bit easier… 
Why do you think social media is important?
I've grown up in a generation that's surrounded by it and we were there at the birth of personal profiles and sharing everything online.
From a personal angle social media does have its downfalls and it can be an incredibly negative space, but  from a business perspective you're crazy to not be harnessing the insane amounts of people that soak up hours of content and are just waiting to be targeted by your ads.
When customers are researching your brand they'll head onto Facebook, Instagram or twitter to find recent updates or any new products so it's super important to keep your brand looking uniform across all platforms. The correct approach and brand identity/ voice online can work wonders in terms of breaking down barriers to customers and making them feel like they are part of your brand and eventually buying into whatever you're selling. 
What Do you Do For Fun?
As much as I love my job and being attached to a laptop/phone I like to spend my spare time outside with any kind of adventurous activity. I swim competitively and have surfed for years but recently took up wakeboarding. Thoroughly enjoying the many many face plants, aches and pains that come with learning to wakeboard!