Who am I?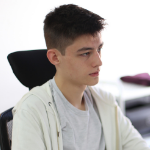 Hi I'm Sam, a Fullstack developer at BigEyeDeers. I've been working with Magento for over 3 years now, but writing code for over 8 years now. And then dabble with server configuration where needed.
What do I do?
My main focus is usually around Backend Magento Development. Although this can vary quite drastically, from building custom features, modifying functionality of 3rd party modules all the way to debugging and fixing Magento core code.
Although I do also work on some frontend feature builds from time to time as-well as helping with the server configuration where needed.
Favourite Piece of work?
I think Lightening Box Quotation System would have to be my favourite I've worked on so far. It's a store view for the Elesi site, that allows for Electricians to earn commission on quotes that they create for customers. The Electricians get a fixed percentage discount, in which they can split between the customer or keep their full commission.
Latest work?

One of my most recent tasks was building Pay On Account functionality into the JA store. This payment option needed to only be available to certain customers and only while they are not using finance. We also needed to add custom order status' for these orders, that would automatically progress along with the order state. Then to wrap it up add in some UI Components to the admin area to help identify the state / time left on these orders.
What do you do for fun?

As I enjoy both hiking & driving I find myself up Brecon quite a lot enjoying the mountains. The plan once COVID restrictions lift is to take on the national 3 peaks challenge.
Although if it's raining, I usually can be found either playing some PC games, or with Python and cool AI technologies like GPT-3.