[block] [title large]
We're Expanding
[/title]
As demand for our work increases month on month, we believe this is the perfect time to expand our team and open our doors to the South West. We adore Cardiff Bay and excited to have set up camp in the beautiful Bude, Cornwall, to add to that.
We aim to add to our already excellent and well rounded team and continue to deliver our top quality services. We will shortly be on the search for new deers to add to the herd!
[/block] [block grey followupwhite whereTheDeersAt] [title large]
What the boss man had to say
[quote]"We're really excited about opening our new Cornwall office and offering our services across the South West. Cornwall and Devon in particular both have thriving eCommerce sectors and we're aiming to help businesses expand their markets with the aid of our expertise" [from]Steve Flanagan, Creative Director[/from][/quote]
[/title]


[title large]
So… who are you Big Eye Deers lot?
[/title]
For those of you who don't know us, Big Eye Deers are a full service agency who have been based in South Wales for 9 years and are now taking the step to expand the already awesome team.
The experience of the team extends far beyond the 9 years in business with skill sets spanning a wide range of marketing, design and development paths.
The combination of skills from our team of five keeps us at the forefront of trends and techniques and allow us to deliver top quality projects. Our tight knit team ensures transparency in all projects and a passion about all of the work we deliver.
[centered][button /meet-the-team]Learn more about each deer here[/button][/centered]
[/block][block centered rarContent] [title large]
 & Testimonials
[/title]
Our work has always been highly rated by our clients and with that, we can wear the RAR badge of honour! Our RAR Recommendation means that our clients have rated us top quality in all of the services we provided for them whilst working together.
See what our clients have to say about us…
[quote]"BED have a fantastic, wide-ranging knowledge of eCommerce and web development. They confidently and expertly create customisations that not only improved our Magento platform but dramatically improved the ease for our customers."[/quote]
[quote]"We knew that we wanted a well cached, fast site, with responsive design across devices – BED took that in their stride, and the result was the heinnie.com which you see today."
[from]Olly Leonard, Heinnie Haynes[/from][/quote]
[quote]"BED are exceptionally professional, versatile, adaptive and easy to work with and we look forward to working with them again as our needs develop."[/quote]
[quote]"The whole team at Big Eye Deers are excellent to work with and highly committed"[/quote]
[quote]"We are very happy with the service Big Eye Deers have provided us. The team are easy to work with and all problems/queries are solved quickly, we also noticed they were working on the website late at night and we were all very pleased at their level of dedication. We have now taken up the support package with BED and the continued support has been excellent."
[from]Clive Besley, Bathroom Supastore[/from][/quote]
[button http://www.recommendedagencies.com/big-eye-deers]Visit Rar[/button]
[/block][block white cornwallContent][title large]
Specialists in eCommerce and Bespoke Web Builds
[/title]
We specialise in eCommerce and bespoke web builds having worked on the Magento Community Platform for over 6 years with our Technical Director, Zak, a Magento Certified Developer. We stay very much on trend with user experience patterns and usability techniques after analysing your target market and demographic and making sure the design is perfectly suited to that audience.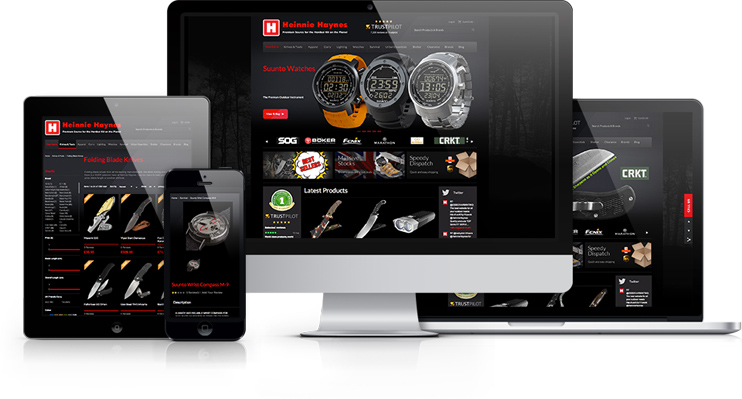 We offer a wide range of services to new and current clients. These include print work, eMarketing, UX analysis & improvements, SEO, PPC, bespoke API plugins and integrating connections between Magento and Inventory Management Software. It's always worth a chat with us to see if we can meet your requirements and the solutions we think would be best for you.
Design through to UX
Bespoke functionality
Advanced Faceting
Responsive across all devices
Trustpilot integration
Our projects have spanned a wide range of sectors and varying needs for functionality. Have a look at our Case Studies for examples of our work and the thought process behind each build.
[centered][button /casestudies]Click here to see our latest Work[/button][/centered]
[quote]"Expanding our brand of high quality digital work to South West will be an exciting challenge for the Deers.  I can't wait to get my teeth into lots of new projects (and the odd pasty or two) down there!"
[from]Zak Grindle, Technical Director of BED[/from][/quote]
[/block][block grey][title large]
Talk to BED
[/title]
We love our clients and can't wait to build more fantastic relationships with local businesses in the South West.
If you'd like to have a chat with us and see what we can offer, feel free to give us a call at either office. We are happy to talk through your requirements or perhaps arrange a meeting to discuss it all over a nice cuppa!
[/block]