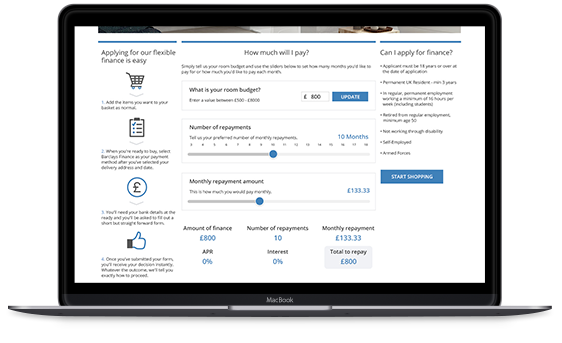 We're no strangers to a challenge here at Big Eye Deers, we love creating bespoke integrations with Magento and 3rd party systems. Whether it's inventory management software, courier fulfilment, courier tracking systems or CRMs – you name it, we've done it. Recently we were tasked with creating a payment gateway for Barclays Partner Finance, naturally we couldn't wait to get started!

Barclays Partner Finance is one of the UK's largest point of sale finance providers allowing businesses to offer easy and flexible finance solutions to their customers. A variety of finance solutions are offered from interest free and flexible bFlex to Buy now pay later. Our initial brief was to integrate with the bflex solution but we have since extended the module to work with their buy now pay later offering.

Our main objective for was to integrate Barclays Partner Finance (BPF) as seamlessly as possible with Magento in order to provide the best possible user experience. When enabled, our module displays a BPF payment option at checkout along with the required representative example and legal disclaimer. We stuck to best practice when creating the payment method to guarantee our module would work even if store owners are using a custom checkout extension. We stuck as closely as possible to the standard Magento checkout and order workflow. Upon placing an order users are taken to the Barclays finance site to complete their application. Our module periodically communicates with BPF to check for updates to applications and updates the order in Magento accordingly. Whether the application is declined, not taken up, awaiting completion, ready to ship or ready for payment, we've got it covered.

There are strict rules and regulations when using Barclays finance on your website. Certain user experience criteria must be met along with supporting disclaimers and legal copy. After having worked closely with Barclays on a number of integrations now we know how to achieve the necessary requirements efficiently and with minimal fuss. We're experts in user experience planning, design and build of the necessary support pages and functionality required when offering finance options.
If you're looking to offer Barclays Partner Finance on your Magento site give us a call!