Designing a website is a real challenge for any business. It is a work of creativity. No matter whether you are building a new website or re-designing an existing one, it is important to rely on data, rather than intuition. Don't forget that the decisions you are taking will decide your creative and financial success or failures. Hence, it's your utmost duty to avoid pitfalls in your website designing process.
It would be a great idea to start with A/B testing. You need to conduct some simple tests on your websites to point out the shortcomings in designing, functionality, and navigation. In this way, you will be able to create a website that is not only excellent from the visual perspective but also well-optimized for conversions.
I know you are getting curious now! Whenever you are assigning a website designing agency, don't forget to tell them to conduct A/B testing.
Let's delve into the detail, then!
A/B Testing 101
With A/B testing or split testing, you can compare two variations of a single design on a website. It will let you point out which element is going to be most effective for acquiring your business goals.
During A/B testing visitors will be randomly divided into two groups – group A and group B, whenever they enter into a website. Then, each group is shown a variation of a particular design element as per your choice. For instance, it can be a landing page, a call-to-action button, or store theme.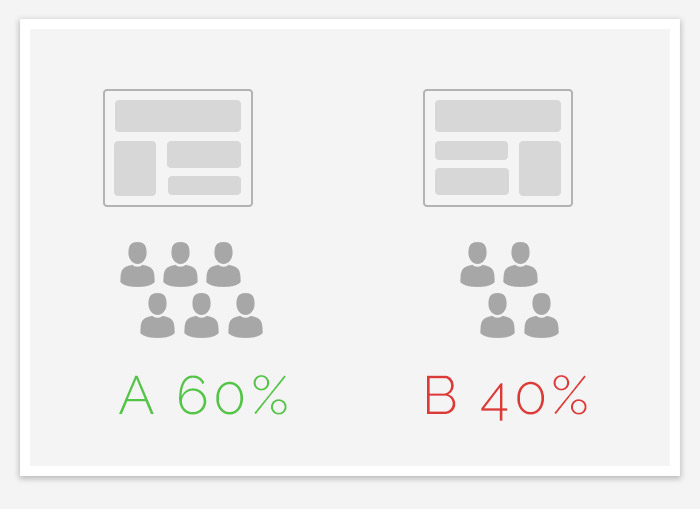 When you are testing two different variations against each other with real users, you are collecting important data to find out how each version of an element is influencing the behavior of your visitors. It is also offering you an insight into the creation of a website that can provide your best outcomes. Moreover, A/B testing enables you to craft the best website design possible for your project.
Why should You Conduct A/B Testing
You are looking for the best website, visually appealing and user-friendly, right?  Well, this is reason enough for you to go for A/B testing. Still not sure? Then, let me introduce you to a bunch of benefits you can reap from this method.
   Increased Revenue
A/B testing helps you get more revenue. You are free to leverage the benefits of website optimization. If you ask your website designers to utilise A/B testing as a post-launch tool to bring useful changes, you will be able to get the best bang for buck.
   Decision-making
Everyone wants to have a website that is per their requirements. Obviously, you have an imaginary concept that you would like to see in reality. Fortunately, A/B testing allows you to gather concrete data and analyze them to make right decisions.
   Users' Satisfaction
Sometimes, we emphasize only on the visual aspects of a website while completely ignoring the functionality. An appealing website is no doubt desired by all, but you should not sacrifice conversions. Conversion, after all, is the main purpose of developing a website. Through A/B testing, you will reach nearer to perfection. Improved functionalities satisfy your customers. What can be more beneficial than this?
How to Conduct an Effective A/B Design
Before you go to your website designers, why don't you learn about A/B testing? It may seem to be a daunting task at first, but it is not. A/B testing is quite simple. Let's go through an outline that will help you get a better understanding of this method.
What's the main purpose of your website? Are you clear about it? It is of immense importance to be well-aware of what success means for you regarding quantifiable metrics. Quantifiable metrics or conversions reflect the desired action you want your visitors to take on your website. You should define your objective and measure of success to your web designers early on; it will help them set up a proper framework to operate the A/B testing.
Conversion metrics may vary as per the types of the websites.
If you want best outcomes, you need to identify those areas of your funnel where the users are leaving you and where your hope of conversion is ending as well. Technically, these terms are known as "bottlenecks". These bottlenecks are responsible for the bad performance of your website. Hence, you should conduct your A/B testing in these particular areas to rectify the mistakes that are ruining your conversions.
If you have already set up Google Analytics, you can get a comparatively easier way to mark the bottlenecks in your user experience with the help of its built-in conversion tracking. When your designers will set up your conversion goals in the analytics admin, they need to create a conversion funnel by explaining the series of events or pages a user is expected to interact with on their journey to conversion. For instance, look at a conversion funnel usually seen on e-commerce sites – "Landing Page", "Call-to-Action",  "Lead Form",  "Sales Page", and finally, " Order confirmation" or "Conversion"
When the designers are done with conversion goals and funnel setting, they can identify the bottlenecks with "Goal Flow" report provided by the "Goals" section of Google Analytics. Now, you can see which areas need massive improvements and ask your designers to improve them accordingly.
After marking the bottlenecks, it's the high time to create a hypothesis on how to assure the modifications will change the user behaviour.  A hypothesis incorporates a layer of purpose to the process and keeps you stuck on the right track throughout the entire process of implementation.
For instance, if you want to decrease the cart abandon rate, the designers should find the bottlenecks, then, a hypothesis should be made like this one:
"If we cut our checkout flow by consolidating the billing and delivery information pages into a single page, then we will be able to decrease the abandon rates."
If you want to conduct a test without a hypothesis, you will get valuable data on your visitors, but you may miss a deeper level of analysis and validation that is vital for the overall performance of your website. The best thing about A/B testing is, even if it fails, you can still draw conclusions from the experiences you have gathered.
In the next step, the designers should create variants for some design elements in particular which are going to be tested. The original version of the element will act as the control when your new version would be a variation of that control.
The Beginning of the Test
Now, you are ready for the test. In order to ensure your test, you need to provide the most accurate results. In this context, it is important to focus on two things:
   Display your variant and control elements simultaneously to a randomly selected group of sites visitors.

   Designers should run the test long so that it can be displayed to the largest sample size possible.
A Final Takeaway
When you are spending your money on designing of a website, you should leave no stone unturned to make it appealing as well as highly functional. Don't take A/B testing as an option.  It is mandatory if you really want to make your website the most effective one.
Is there any other question floating around your mind regarding A/B testing?  Write to us. We will get back to you with the best possible answers.