A common misconception amongst eCommerce stores is that you need to have a high turnover of new customers in order to increase revenue. But the truth is, there are many ways you can encourage your existing customers to increase the size of their order. It's less about the amount of transaction you get on your site and more about measuring the value of the order.
What is Average Order Value?
Average order value (AOV) is the average amount a customer spends when placing an order on your site, which is obviously important. So it's crucial to know how to calculate this metric in order to set business goals and evaluate progress.
You can easily calculate these metrics using Google Analytics. You should generate monthly reports to regularly analyse results and make changes based on your findings to entice new and existing customers.
In this post, we'll share 6 tips on how to increase the average order value on your store.
Free shipping with a minimum spend amount
A quick win to increase AOV is to set a minimum spend for free shipping. Did you know that 55% of customers bounce from a site because of the hidden extra costs? This is a huge figure that can massively impact sales.
From experience, most customers actively look for free shipping, so enabling customers to spend a little more to get free shipping is usually an easy selling point. However, it isn't suitable for everyone, there are lots of rules to help you work out if you should offer free shipping. But to put it simply, it comes down to if you can afford to offer it and how much it affects your bottom line.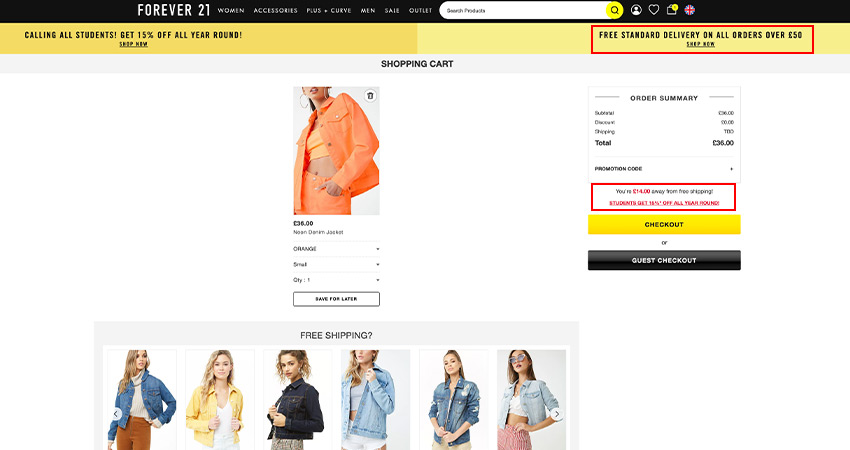 If you make £40 off an item that costs £2 to sell you can offer free shipping to keep your customers happy and encourage them to come back. Free shipping doesn't have to be on next day, it can just be a free option that will take longer to arrive. So although the customer is having to wait longer for their item, they might feel like they are getting a good deal with the offer of free shipping. This won't work for all customers, however, you must do what is within your means.
There are some situations where free shipping is not a good idea. Cost-based shipping or specialist shipping, for example, might be needed on certain items that are exceptionally heavy or expensive so you wouldn't want to offer free shipping as an option.
But again, offering free shipping isn't always feasible due to a number of reasons, so the biggest thing is working out what works for your company first.
Product recommendations
Using your customer data to monitor shopping behaviours can be a great way to increase AOV. Quite often shoppers can be so focused on buying a certain product that they forget to shop around. But by using your customers browsing history, you are able to make product recommendations, which will increase your chances of generating another sale.
Looking for an easy way to encouraging customers to look at a broader range of products whilst shopping? Amazon is an obvious site that springs to mind when I think of this. When you search for a product with Amazon, not only do they present you with the product information, they also provide you with a tailored list of products that might be of interest to you based on your search. This allows you to influence the customer's decision without being pushy.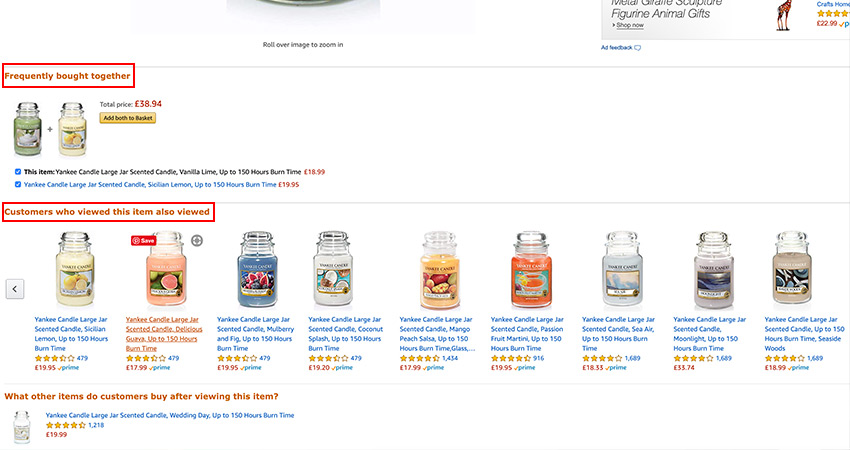 Cross-sells
Now we've covered product recommendations, let's talk about cross-sells. Similar to the previous approach, cross-sells gives you the opportunity to show customers several products at a time to help them create a complete look. Asos is a great example of how you could achieve this. Having a "buy the look" section on the product page where you can add all items worn by the model into your basket, adds a personal touch to the user journey, allowing customers to explore their options with ease.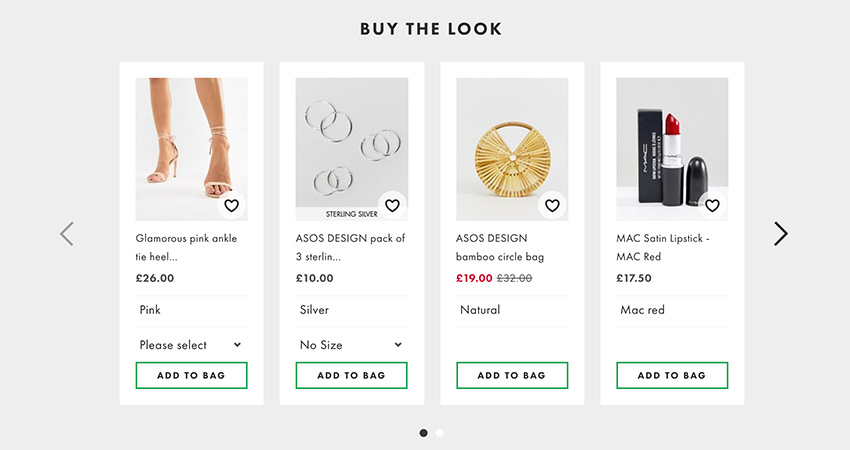 It basically works as a free online personal shopper – a perfect example of customer-focused UX!
Bundle products and discounts
Creating a bundle or discount products are a great incentive to get customers to spend more. Because let's face it, every shopper can't pass up a good deal. The great thing about this strategy is that you can completely tailor the discount based on your products and business goals.
What's great about bundle products, is that you can create them at a much smaller cost to what they would cost individually. This is usually made transparent across those products, meaning they will pretty much sell themselves as the customer can instantly see that they are getting a good deal.
Beauty Bay uses this strategy on their website.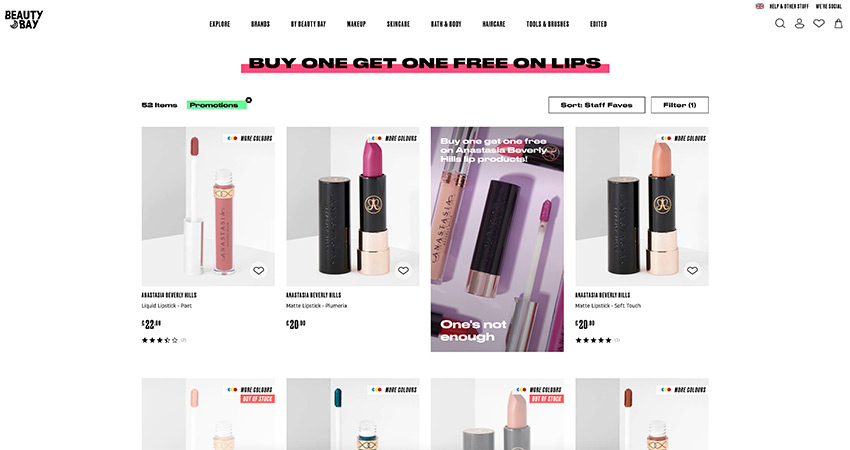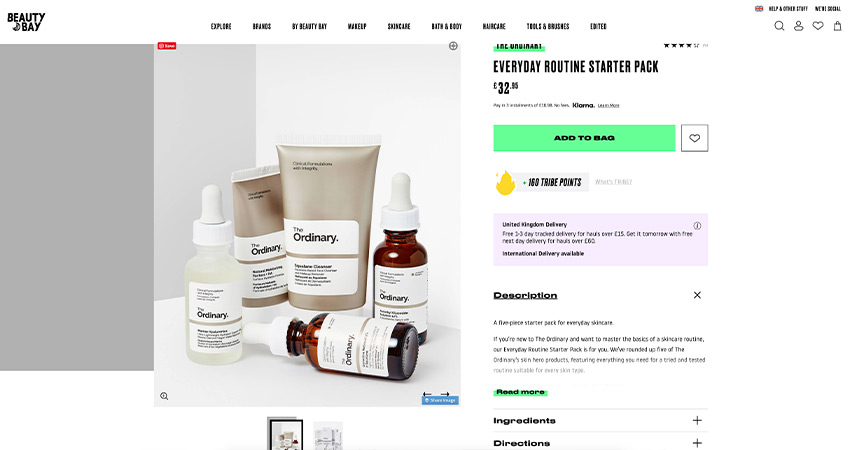 It's great for brands with a lot of skincare products, as they are usually part of a daily routine or process which requires more than one product, so the customer is given the option to buy the products individually or in sets or kits.
This is obviously product dependent, and you should already have an idea if you can offer bundle discounts or not.
Personalisation
Adding personalisation to an order in the form of gift wrapping or personal message is another simple way to increase your AOV. Over the past few years, there has been a significant shift in customers shopping behaviours and statistics for 2019 show that eCommerce sales now account for 13.7% of retail sales worldwide.
So, it is crucial that you are meeting your customers needs as an eCommerce business. Quite often users are buying for a friend, birthday or special occasion, so why not give them the option to select their purchase as a gift. Brands like Not On The High street, for example, specialise in these types of purchases and have dedicated pages for gifts and personalisation.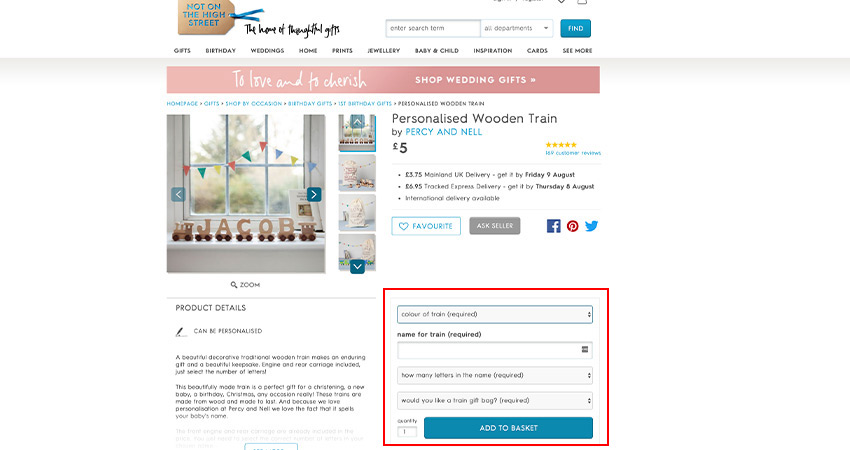 However, you don't have to go as far as that, you could simply ask the question at the checkout "Is this a gift for someone special" and then offer a gift card or wrapping option at an extra cost.
Conclusion 
To conclude, yes it's important to attract new customers to push sales, but you should prioritise keeping your existing customers happy first. By putting the above tips in place, you should see an increase in your AOV and maximise customer satisfaction.
So, if you give any of the points discussed a try, let us know if you see a significant boost in your average order value!