Big Eye Deers built and designed a global online merchandise store for Tiesto, the world's biggest DJ, using Magento, the market-leading open source ecommerce platform that delivers Amazon-like levels of functionality at an unbeatable price.
We developed a custom store skin and homepage design, which features a Flash driven product showcase, spotlighting the latest clothing and accessories.  The site marries the distinctive style of DJ Tiesto with a best of breed e-commerce powerhouse.
Tiesto has a massive international fan base. With more than 1.7 million Facebook fans, we integrated Facebook Connect functionality into the store so purchasers can link their Facebook account to their store account, providing wall updates on purchases, easy login with Facebook credentials, delivering a valuable source of free viral marketing.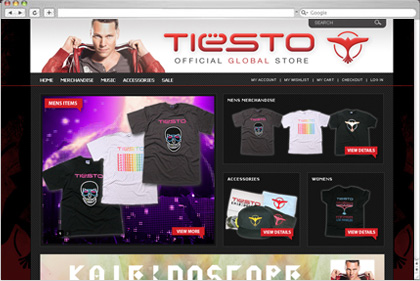 As an international superstar, the store needed to cater to his diverse range of devotees across the globe. We developed a custom IP-based re-direction solution so visitors to the store are directed to the correct regional portal. With an operation of this size, ensuring the backend worked seamlessly with distribution fulfilment partners is essential. We collaborated closely with Tiesto's fulfilment, shipping, and printing merchandise network, providing training, support and custom integration to interface their existing systems into the new store backend.
The result is a slick Magento online store that was befitting Tiesto's status as the world's biggest DJ!
Visit the new Tiesto online store here.