Who am I?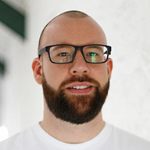 Hey, I'm Geth the go-to for anything design related here at Big Eye Deers; that said Steve the boss man also jumps in on the design tasks now and again when he's had enough of admin 😄. So after finishing university, I worked as an in-house designer for a couple of years before jumping ship over to the Big Eye Deers herd; where over the last eight years I honed my design skills and naturally found myself progressing more down the website/digital path of design. Alongside the usual design tasks, I'm also the QA Tester making sure everything is pixel-perfect!
What do I do?
In a nutshell… I design pretty websites and great UX! *If the client lets me* 😅
When not photoshopping hilarious pictures of Ben, you can find me more often than not designing up a webpage; usually, e-commerce focused.
For clients under maintenance contracts, I look to research and see where I can increase sales or click-throughs on their sites, whether this is through improving the UX or creating more compelling CTA's or content.
Once all of the above is designed and built by the cracking dev team here  I like to double-check it's the best it can be before the client casts their eyes over it! 
Favourite Piece of work?
I'd say off the top of my head it would be Barber Blades; as they were so down to earth they gave us the creative freedom more so listened to and trusted our design and UX expertise. Because of this, we were able to create a not only a great looking site using modern design practices but incorporating great functionality into the site. This made the whole project so much more fun to work on for everyone and we still work with them making updates to the site to this day.
Latest work?

The latest work apart from ongoing maintenance task would be for the company My Fenix we are migrating their old Magento 1 website over to the new Aero e-commerce platform that will be a big improvement for them so we have been working with them to design a new site that will be super fast and will look great and user friendly for their audience. Its currently in the building stage so keep an eye out for its launch.
What do you do for fun?

As cliché as it sounds, I like to travel as much as possible in my spare time, but due to Covid that hasn't happened. I haven't done a lot over the last year apart from walking, which now in fairness I have got well into exploring the welsh mountains so will keep that up as it helps with my other hobbies of eating and drinking. Cheers! 🍻