Launched in 2015, Magento's new and improved platform labelled 2.0 brings together all of Magento 1.x along with a greater code base packaged together with some super additional features and optimisation which equates to better performing websites, all wrapped up in a big orange bow. Can you tell we're enthusiasts?
Upgrading from Magento 1.x to 2.0 comes at a cost, we're afraid it's not quite as simple as simply flicking a switch. Many extensions would need to be rewritten and modules revisited. But fear not, there are an endless amount of benefits to upgrading that bring a great return on investment.
We have all heard the age old saying "if it's not broke, don't fix it", and change can be daunting especially when a website is already performing well. But in November of this year (2018) Magento will cease support for ecommerce merchants using its version 1.x platform and only the very basic security patches will continue to update. So, it's definitely time to start thinking about making that switch. Remember, change in the ecommerce world is an opportunity to develop, adapt and optimise to your strengths and to realign aims and objectives with your digital strategy. Retail is constantly developing and this is a perfect opportunity to reposition yourselves in the market.
What's so great about it?
The greatest feature is its optimised performance. Pages load 30-50% faster in Magento 2, and studies show it can handle up to 39% more orders per hour, plus adding to cart takes 66% less time. It can also handle greater traffic, managing 10 million page views an hour whereas Magento 1 in comparison, can only process 200,000. Performance like this improves a user's experience, but also has a positive effect on a page's Quality Score, which can increase its Ad Rank in Google, positively affecting a site's SEO.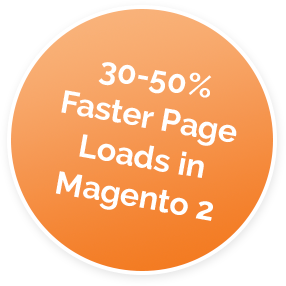 This performance improvement and reduced server load is thanks to the much improved caching system and the support of caching technologies which include HTTP accelerators, it is also down to the PHP7 that Magento 2 supports, providing superior performance to previous PHP versions. Magento 2 has also revisited its cart, now, through the use of javascript, shoppers can add to cart without the entire page reloading and this comes as standard out of the box. This puts less load on your hosting hardware and creates a greater responsive experience for shoppers.
1. Open and Easy Customisations

Magento 2.0 features a new modular code base which means easier customisation, faster time-to-market and greater deployment flexibility to public or private cloud environments.

2. Improved Customer Experience

With a massive emphasis on an improved checkout. The simplified checkout process has taken away user-registration mid-checkout with fewer confusing options and forms, focusing on what matters: completing a purchase, resulting in less abandoned carts and more conversions. There's also improved paypal integration and product photos on order summaries. Mobile browsing enhancements have also been made for a streamlined mobile experience.

3. Easier Maintenance and Upgrades

The new modular code base means there is less complexity and cost when it comes to maintaining and upgrading your website.
This means you can implement new and innovative functionality with ease. With easier upgrade and maintenance, this means you can continuously improve the UX for your visitors and drive higher sales and conversions.

4. Improved Admin Panel

Magento 2.0 offers merchants a greater administrative experience, making navigation and site updates simpler and more efficient. The new admin panel design offers an organised interface that saves time (up to 4x faster to upload a product) whilst maintaining the ability to customise the view of the admin panel to show particular site attributes that suit your business and reporting needs.

5. Scalability & Performance

Magento is suitable for all companies from start-ups to large enterprises. The platform can expand your online marketing potential and grow with you as your business grows.

6.Upgraded Security Features

Magento 2.0 comes with upgraded security features, including tight out-of-the-box integrations with a number of payment gateways. The upgraded Magento provides individuals with improved security and the ability to get to the first level of PCI compliance.
"We recently migrated from Magento 1 to Magento 2. Immediately I noticed Magento 2's modern interface and the many extra options available. The admin panel is much more customisable; you can choose which columns you require to make it easier to search for products, orders etc – providing a better experience for admins. I especially like the added functionality with the export filters, the endless options allow you to export what you need. Importing is easier too, with an added tool which scans .CSV files for errors prior to importing, ensuring it'll upload without issues – very helpful indeed. A great time saver!
Something that's very important is speed. Magento 2 works much faster than Magento 1 – the time for products to save, images to load, categories to re-order etc, has sped up considerably. Making it a greater experience for us, and our users.
Yes, it takes time to get used to a new system, yes, often change is difficult, but sometimes you have to move with the times. I'm glad we've done this with our websites - the improvements and new features Magento 2 have a big thumbs-up from me!"
- Karina, Tiles & Bathrooms Online
To Conclude.
Magento is the leading eCommerce platform for both B2B and B2C merchants.
It's enviable features provide a seamless omnichannel experience.
Magento 2.0 is Magento 1.x's leaner, meaner older sibling. With all the same characteristics; but far more advanced. Performance is greater, with better security, and simpler maintenance and upgrades.
Switching from Magento 1.x to its upgraded platform isn't easy. In most instances, it is more beneficial to revisit a merchant's website and build it from the ground up.
Magento 1.x's support will stop come November 2018. With only basic security patch updates following on.
If you are seeking to undergo a considerate amount of work to your Magento 1.x store, we recommend considering a switch to Magento 2.
If you're still unsure about making the switch, and are struggling to determine whether it is the best thing for you and your business in its current situation, check out our Magento 1 or Magento 2 low-down here.