As marketers continue to shift their budgets towards mobile to keep up with the growing demand for a seamless desktop-to-mobile shopping experience, Statistics show that 44% of online retail minutes are spent on mobile and 11% on tablet. Combining these two statistics proves that shoppers spend more time on mobile devices than desktop computers or laptops.
Not optimising your eCommerce store for mobile can have a detrimental effect on your business sales, so it is important to put a strategy in place. In this post, we'll share 6 easy tips to nail mobile optimisation and keep your shoppers happy.
Test Your Site
An easy tool to use to check if your site is "mobile friendly" is Google's Mobile-Friendly Test tool. This will highlight any issues customers have when accessing the site from a mobile device and how to rectify them. All you need to do is type your URL into the site and click "run test" This will then bring up results like the example below.
If the test says your "page is mobile friendly" then great! However, you might see a tab in the top hand right corner saying "page loading issues" be sure to click into that to see where the loading issues lie and whether it can be a quick fix.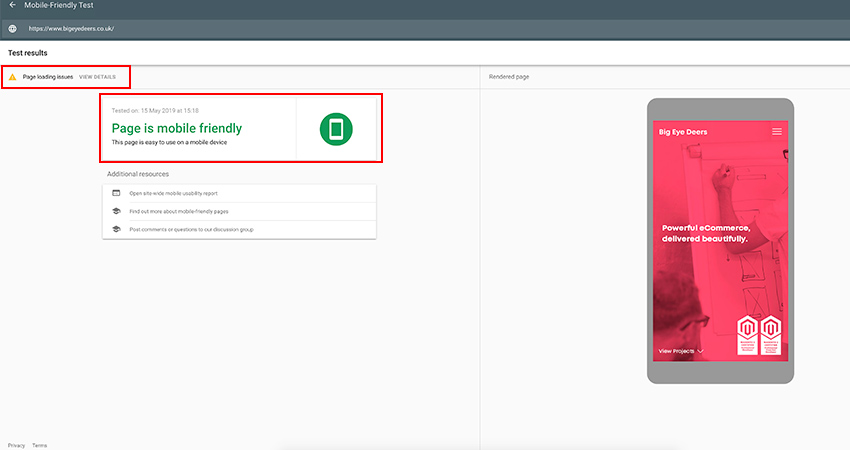 Improve your site loading times
Why does speed matter? Well, statistics suggest a staggering 57% of mobile customers will abandon a site if they have to wait 3 seconds for a page to load. That's a huge figure which could heavy effect sales if your site has a slow page speed.
A way to check this is through Google's PageSpeed Insights tool. You simply paste your URL into the search and it gives you a mark out of 100 for page speed. Anything between 90-100 is an ideal score, if you are somewhere between 50-80s, this means your site will be running slowly, any issues it highlights in the diagnostics need to be taken as a priority.
Other points to be aware of are image sizes and updates. Ensure large files are compressed to manageable sizes that won't affect the quality. And make sure to keep your site updated and secure, outdated software leaves you vulnerable to security breaches and can affect loading times.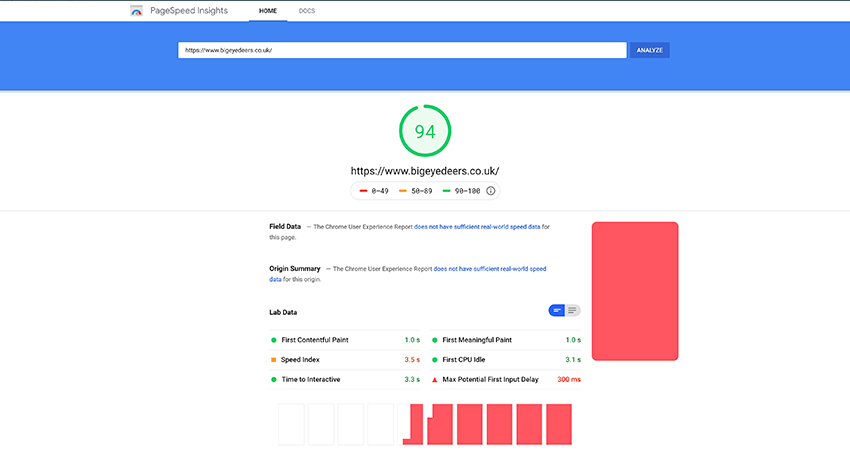 Simplify your checkout
Having a simple checkout process on mobile is crucial in landing those all important sales. You want your customers to be able to make their purchase as quickly and efficiently as possible. Tips for improving your checkout:
Simplify your checkout to as few steps as possible

Have clear and highly visible CTA's

Don't distract your customers with a cluttered checkout  

Ensure you have multiple payment integrations available (i.e PayPal, Apple Pay, etc)

Sign in options – quick sign in links for account holders, alongside guest checkout and express checkout for those not wanting to create an account

Make sure your security badges are clear so the customer knows their data is safe whilst shopping on your store
Optimise your navigation
For an eCommerce store, navigation is an essential part of a customer's shopping experience. You want to make it easy for your customers to shop no matter what page they are on. But the likelihood is that the navigation you have designed for desktop will not work for mobile users so you will need to consider mobile layout when it comes to your navigation and drop down menus.
Redesign your pop-ups
Pop-ups can be a great marketing tool to grab the attention of potential customers. If you do plan to have pop-ups on your store, you need to ensure they aren't disruptive to the user journey nor do they come across as spam. If they are subtly placed with a great incentive you are more likely to get a customer to engage.
Again, pop-ups are going to appear far different on mobile than they will on desktop so you need to have a design in place for mobile users. They must be easy to read, easy to close and not too intrusive that the customer exits the site.   
Summary
Mobile optimisation is just as important if not more important than desktop, so make sure you are listening to your customers and making the necessary changes to land those conversions.
If you're looking for help on optimising your store, get in touch today!